Specialized Section
Discover the World of Enterprise Disk Storage
28.01.2013, 08:00
Since the modern history of the Czech Republic we are the witnesses of IT inter-growing into firms' structure. To be flexible and efficient at IT area is competitive advantage.
Number of companies with which we solve their IT needs on a long-term basis (especially data storage) worked through their development to an interesting dilemma.
They are in a situation where the classic concept of modular disk arrays is not longer enough for their needs but the higher level – enterprise storage – is non-acceptable because of the price. There is some kind of "grey zone" of customers, of which the producers didn't think. Until the Hitachi HUS VM disk storage brings the new category of data storage.
Modular System versus Enterprise System
Let's begin with the basic vocabulary: Modular system usually presents a base unit with two managing controllers. The capacity can be increased by cheaper expansionary disk boxes with intelligence borrowed from the base unit. With that the modular principle starts and ends too.
The enterprise disk array exceeds in exceptional scalability compared to that. It is possible to add ports, disk capacities, cache and processors online. Completely different architecture allows guaranteeing 100 % data availability and ability to attach a third party's disk array to your administration.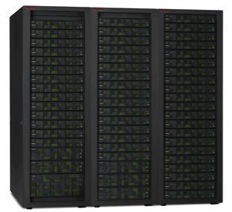 Enterprise Storage at the Price of Modular Storage
Hitachi Company by the end of September introduced a new disk system HUS VM belonging to the Hitachi Unified Storage (HUS) product family.
The base of HUS VM is 5U HiStar 5.5 enterprise disk controller, which can be equipped by 256 GB of cache memory, by 48 ports for servers attaching (there is a choice of FC, iSCSI, FCoE is in contemplation + their combinations).
In terms of sharing it is possible to attach block modules providing file services CIFS a NFS, which are implemented at the HW level.
Disk capacity can be extended by two ways – internal and external capacity. It is possible to equip 3,38 PB (SSD, SAS 10k, SAS 15k a NL-SAS 7,2k) internally and to attach and perform disk virtualization 64 PB externally. 
The magic of disk virtualization lies in attachment of external disk arrays under one administration of Hitachi enterprise system including third parties' disk arrays that the user has purchased during existence. Thus it is possible to lend the intelligence of Hitachi disk systems (replication across locations, tiering, dynamic provisioning, snapshots, clones and other) to the disk arrays, which do not have these functions. Thanks to this the investments made into storage units are thoroughly protected.
Price
Hitachi obtained to reduce the price for HUS VM by "wrapping" this enterprise technology in a modular package and by using of modular way of disk system extending. HUS VM has got 2U and 4U expansionary units for internal disk system extending. 2U unit has a capacity of 24 2,5″ disks, 4U unit has a capacity of 48 3,5″ disks. In the short run there will be a third type of expansionary unit at the size of 5U, which will have the capacity of 84 3,5″ disks. Hitachi is so confident in HUS VM reliability, that they offer 100% Data Availability Guarantee option.
Licence Policy
A person, who has ever worked with enterprise systems, knows that the licences for various functions are derived from the number of TB, which is capable of going up in price unpleasantly. Also here HUS VM kept the modular logics – number of licences is contained in the base including disk virtualization.
Licensing of HUS VM is pleasant because number of functions such as adding of unlimited number of servers, dynamic provisioning, disk systems virtualization, performance monitor, management GUI/CLI and other, is already in the basic configuration and price of HUS VM. Other functions are organized into following optional packages:
Mobility – covers Hitachi Dynamic Tiering and Tiered Storage Manager
Local Replication – contains functions of disk clones and snapshots
Remote Replication – enables distant synchronic and asynchronous replications
Analytics – providing Tuning Manager and Command Director functions
Try to sample the first-class Hitachi technology for example by try & buy form.